New Zealand food memories from an outstanding year of eating and drinking.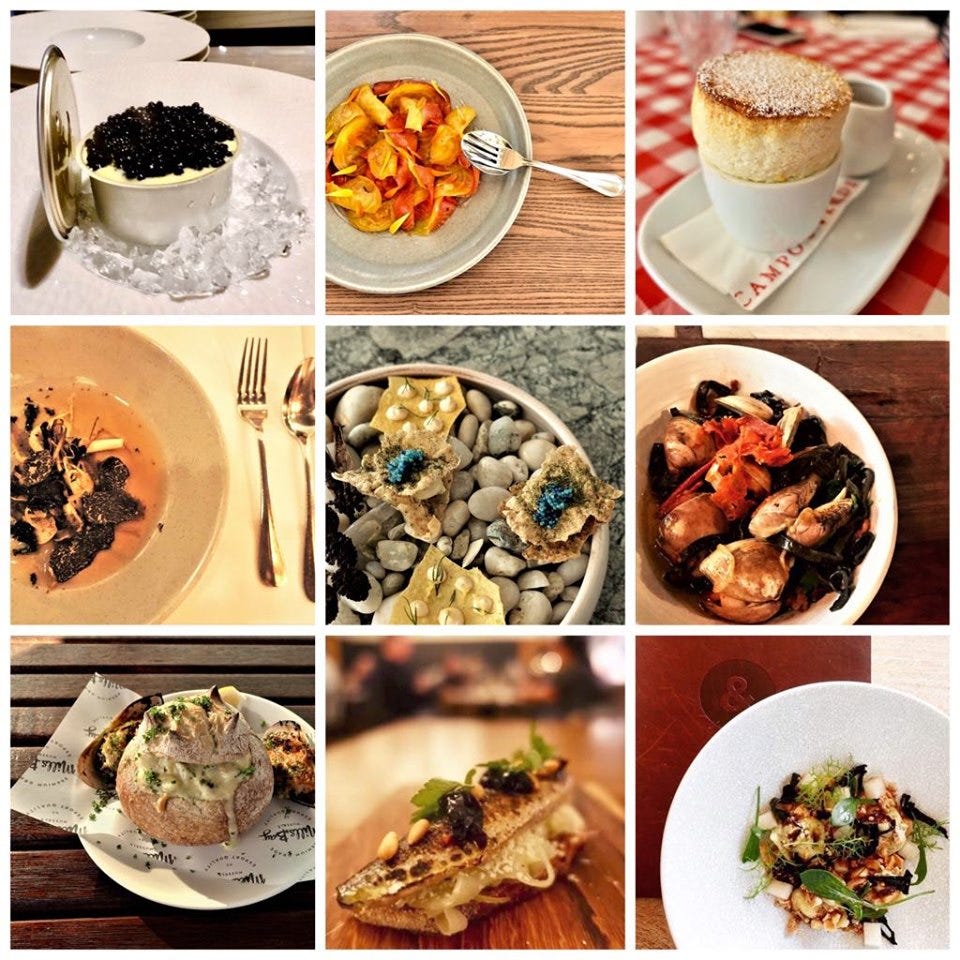 It's that time of year when the food media lists have been rolled out and we are inundated with the top restaurants for 2019, the top nine most-liked Instagram dishes or the most loved recipes of 2019. At Cuisine, we've already given you our picks of some of the best restaurants and chefs across New Zealand within our Cuisine Good Food Guide for 2019 and I have been privileged to have had some of the most incredible meals and experiences at the restaurants that were chosen as our category winners this year. But it does not always have to be about the winners. Almost all of my happiest memories involve food. Little snapshots, stored away in my mind of a taste and a smell, a mood or a conversation where all elements combine to become unforgettable. That moment that every great chef strives to create for us, and sadly, is not always recognised for. In this post, I want to showcase some of the tastes that I instantly recall when I think about good times and being either excited, curious or insanely comforted by a dish. Whittling it down to just nine has been excruciating, but all of these stay forever with me as magical food moments plucked from a year that has involved a monumental amount of dining out in New Zealand.
Apologies in advance that these snapshots from my phone do not do justice to the food. No professional photographers involved here, my art director will no doubt roll her eyes when she sees these!
Depot (January 2019)
A big morning of back to back meetings and a need to factor in a quick lunch found me perched on a stool at the counter at Depot with this bowl of squid ink linguine & Cloudy Bay Clams. For me, Al Brown and the Depot team nail the formula for fresh Kiwi food, served quickly, with an element of slick and a nod to the casual pulse of this terrific city. The linguine was hand-cut, the 'Salash' chorizo added a hint of smoke and bled-out some of that bright red-orange oily goodness that seems to always marry so well with shell-fish. A crunchy slice of Olaf's artisan ficelle to mop up all of that enchanted sauv blanc sauce and there was no need for company or conversation. No small talk, no sharing, just me and those sweet, juicy little clams…
Depot: 86 Federal Street, Auckland.
The Sugar Club (March 2019)
Although my first taste was in 2018, I went back again and again to The Sugar Club for these wicked little Kaipara oyster cream sandwiches made with pearl barley wafers, topped with bronzed fennel and electric blue, wild, West Australian scampi caviar and served alongside homemade pringles with cured hapuka roe taramasalata. I could smell the fresh ocean spray and taste the luxuriously creamy texture of the oyster meat in those clever sandwiches. It was almost like getting dumped by a wave. During his time at the Sugar Club chef Josh Barlow delivered an exciting menu and these gorgeous snacks always induced an interesting conversation starter that preceded a meal that would be the perfect combination of both thoughtful and clever ingredients. Josh has now moved on and as we wait to see where he will land it is exciting to see Chris Will stepping in to head up Peter Gordon's excellent team. I'm also thrilled to see talented young chef Giada Grilli hitting The Sugar Club pans and the super slick Stefano Baldin leading the team superbly from the front. I can't wait to see what 2020 brings for this iconic Auckland restaurant. But I do miss those little oyster sandwiches Josh…
The Sugar Club: 72 Victoria Street West Level 53, Sky Tower, Auckland
Ampersand Eatery (April 2019)
Oh how I love a good bit of recipe lineage. The last time I was at @rockpoolbarandgrillsydney I asked them what was the one dish that had been on their menu forever. They said they had tried to remove the goat's cheese tortellini with burnt butter, pine nuts and raisins but customers made their lives so miserable that it was reinstated. I too have always loved that dish. Fast forward to this sensational goats cheese tortellini with artichoke, dates, mushroom and nashi pear by Mikey Newlands at Ampersand Eatery. This dish was one helluva combination of flavours and texture and leaves no doubt that Mikey is an outstanding chef (who can also spin a great yarn). Over a lunch that included these pillowy little parcels of goats cheesy happiness and a tart that should be definitely on your lemon tart bucket list, I discovered that Mikey's tortellini talent developed while working with Brett Graham at legendary London restaurant The Ledbury Notting Hill. Turns out Brett picked up his tortellini inspiration from Neil Perry and so it goes...
Ampersand Eatery: 4/228 Orakei Road, Orakei, Auckland.
Mills Bay Mussels (May 2019)
For me, a good seafood chowder is a big beautiful bowl of love. I watched my mum making her version until she was well over 70, lugging huge stockpots around her kitchen and sharing the results not only at her restaurant tables but with all of the strays that she fed along the way, wherever she lived. Widowers, ageing couples, kids who had just left home, divorcees, all of them gravitated towards mum and her seafood chowder, always served just like this one in a crunchy cob loaf straight from a warm oven. A trip to the Marlborough region for Feast Marlborough (a festival that highlights not only the much-loved wines of the region but also the glorious food and the people who grow it and cook it) had me booked in at Mills Bay Mussels for a bowl of their famous mussel chowder. It felt so familiar I could almost feel my mum sitting next to me. Apart from the mussel focus, it had all of the usual ingredients including white fish, potatoes, parsley, leek. onion, butter. cream and white wine. I'm not sure if it was the slap in the face of that brisk morning air on a perfect blue sky day or that peaceful table overlooking the boats on the water, but this steaming bowl of comfort wrapped its arms around me in a huge hug that almost made me cry…
Watch this video and the team at Mills Bay Mussels will let you in on their best-kept mussel secret.
Mills Bay Mussels: 23a Inglis St, Havelock 7100
Field & Green (August 2019)
Visa Wellington On A Plate had kicked off and festival director Sarah Miekle picked me up and took me off to my first lunch at Field & Green a chic Wellington favourite that usually delivers European cool, NZ style. For two weeks only (as a result of extensive research by co-owners Laura Greenfield and Raechal Ferguson) the restaurant had transformed into 'Campo & Verde' offering the distinct cuisine of 'Cucina Ebraica Romanesca', crafted in the Jewish ghetto of Rome and 2,000 years in the making. I reckon Laura had whipped this beauty up in her kitchen a little bit faster than that, but it was perfection. The thought of this dish brings back memories of a terrific week that had me immersed in the ever-evolving and highly competitive Welly restaurant and bar scene and put some fabulous hospitality players on my radar. Stretchy pants were on and I was ready to take quite a few for the team, but OH MY this was one to-die-for baked @zanyzeus ricotta and orange zest soufflé served with an almost sinful marmalade and choc sauce. Sarah was not getting me out the door before I had finished every bit of this spectacularly puffed tower of fluffy decadence…
Field & Green: 262 Wakefield Street, Te Aro, Wellington.
Giulio Sturla at The Grove (August 2019)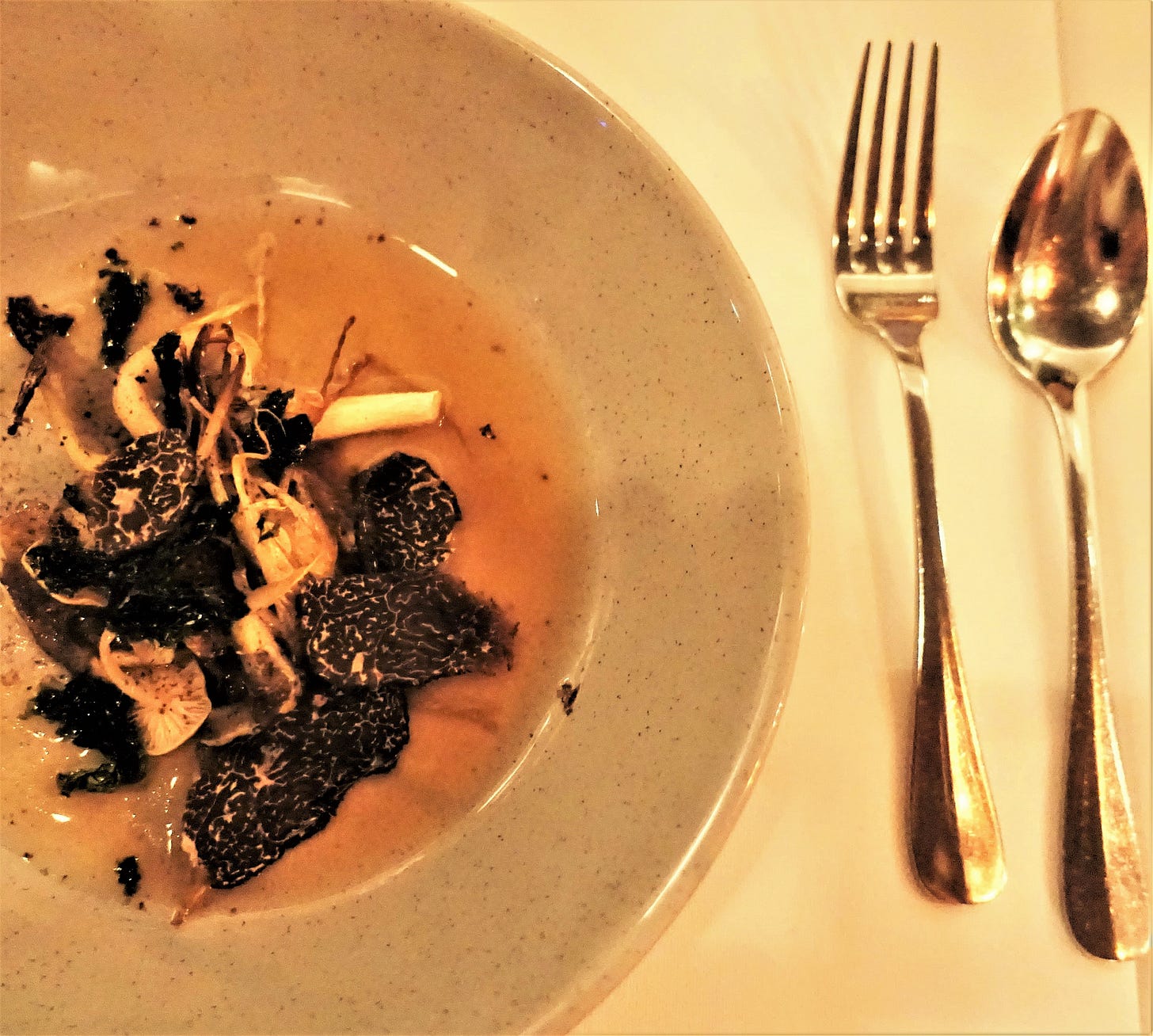 It was an emotional night for all of us as Giulio Sturla produced a taste of his former restaurant Roots at The Grove on 14 August. The team lead by host Michael Dearth and executive chef Kira Ghidoni delivered some of the very best dishes to have been served at the original Roots restaurant in Lyttleton. 7 sensational courses showcasing New Zealand flavours and textures as only the brilliant Giulio Sturla can. I found it incredibly frustrating to hear so many people at this event lamenting the fact that they had never made a visit to Roots while it was open. Too little effort, way too late, they were privileged to have this final taste of a small independent restaurant that had been making a gigantic effort to share a magnificent NZ food story with the world. I sat next to Amisfield Bistro's chef Vaughan Mabee and we both agreed that this superb mushroom dish was the dish of the night. In Vaughan's words "A tapestry of perfectly combined autumn flavours". As I ate, I could almost smell the forest floor, a testament to the skills of both Kira and Giulio working together in The Grove kitchen. I thought back to some of the fabulous meals I had eaten at Roots and the tremendous stories that were always shared of the people behind the ingredients on each plate, and I felt immense respect for Giulio and all that he has done so well. When he brought out the very last of the honey from the Roots hive to share with all of us in that room, my heart felt as if someone had reached in and grabbed it, slowly squeezing it until it ached. I can't wait to see the next steps taken by this humble, kind chef…
The Grove: Saint Patricks Square, Wyndham Street, Auckland CBD
The Hunting Lodge (August 2019)
That right there was like eating a big ray of much-needed sunshine during what had been a very grey week! So much intense flavour and a sure sign of a great chef that is happy, relaxed and loving what he does. A mid-week lunch at The Hunting Lodge turned out to be a welcome respite from the grind of deadlines and way too many lengthy degustations. Chef Des Harris is a bit of a legend having lead the way during the early days at much loved Auckland restaurant Clooney (now sadly closed) alongside one of my favourite NZ restaurateurs Tony Stewart. I headed out with trusty business partner Vanessa Stranan and we were treated to a tasting of their very approachable wines with winemaker Pete Turner, followed by a zip around the kitchen garden with Des and property manager Philipe Stack. Philipe used to be at The Sugar Club before heading down to work with Sean Connelly across The Grill and Gusto and he gets my full vote for being the very best in hospitality schmooze. The combined skills of these two remarkably talented industry players now make The Hunting Lodge a serious destination for those of us in search of great service, delicious food and a side serving of fun. Having both worn the relentless stress and grind of the fine-dining circuit and all that goes with it Des & Phil are now in their happy place and it shows. This cold-smoked salmon with salt-baked golden beetroot was the opening act for what turned out to be a glorious lunch, peppered with outrageous stories (which we all know are always the best ones). As I'm writing this I've just had a text from chef/food writer Grant Allen saying he thinks tomato salads are so very last year. I think he might be right. Bring on the year of the beets…
Although, this was, and still is, one hell of a tomato salad by Fiona Smith, Aaron McLean Fiona Lascelles and Curious Croppers for Cuisine.
The Hunting Lodge: 305-307 Waikoukou Valley Road, Waimauku, Auckland.
Aosta (September 2019)
This stunning beauty, flame-grilled, stuffed with pickled shaved fennel and topped with Cromwell dried cherries and pine nuts has thankfully erased forever the memories that haunt me of my dad's soggy, tinned sardines on toast.
Ben Bayly has been the darling of the Auckland fine dining set for years having carved his illustrious reputation by landing senior chef roles at Michelin starred restaurants, The Ledbury & The Square, London; Restaurant Jean-Paul Jennet, France; and earned 3 Hats from Cuisine while at Auckland restaurant The Grove. He's also headed up some tasty casual spots in the form of Baduzzi and The Grounds in Auckland, but it is at his newby 'Aosta' in Arrowtown that I think Ben has found his sweet spot. Nestled in the main street of a delightful gold-rush village, this 50-seater is casual, relaxed and steeped in history. It is where traditional Northern Italian becomes New Zealand cool. Working alongside him, Ben has the outstanding talents of chef Mike Shatura, Steven Sepsy and a skilled team that is smashing it. The gorgeous Vicki Onions leads a floor that is welcoming and great fun as she sweeps everyone in her path into her intense agenda for making Arrowtown a destination for serious food lovers. I ordered a Sgroppino and watched the magic unfold at the open kitchen pass. These boys are cooking so straight from the heart I can taste the love in this sizzling, smoky little mouthful, the pickled fennel cutting through the glorious richness of a great sardine. I think about why sardines have been considered the Spam of the ocean for so many years. This one doesn't just taste like the sea, it tastes so clean that you can visualise the pristine water that must have surrounded it. Ben's menu showcases many attempts to get us eating outside of the usual comfort zone and embracing sustainable. A braised ox tongue arrives. The whole tongue laid out on the plate with no attempt to hide it other than some horseradish, spring garlic, parmesan and a sprinkling of tiny yellow cornflowers. "Just roll the whole thing up and eat it with your fingers" he says. And I did. And it was sooooo good!
Aosta: 18 Buckingham Street, Arrowtown.
Harbour Society (October 2019)
The big finish! Desserts are probably one of the things that disappoint me the most when it comes to New Zealand restaurants. This one almost had me for a moment! Caviar for dessert? It was the final course of an impressive 12 hands dinner at Harbour Society SO/ Auckland where chef Marc De Passorio worked alongside five international Michelin-starred chefs to showcase their considerable skills while using New Zealand ingredients. A week of dinners and workshops by each chef culminated in an exquisite hands-on dinner where Marc's 'Illusions of Caviar' with its light creamy base tasting of mint and mojitos and Japanese pearls made from tapioca, natural NZ algae and yuzu took the final bow with great grace and aplomb. After 5 intense courses, this dessert was a perfect conclusion, a zing in every bite at a stage in the degustation where I am usually dragging myself to the finish line. I was proud to know Marc that night. Over the next few weeks I watched every one of those chefs (all culinary stars in their own countries) posting photos of New Zealand restaurants and ingredients on their social platforms and planting a seed for us as a premium dining destination. Bravo Marc!
SO/ Auckland: Corner of Customs and, Gore Street, East, Auckland
May 2020 be an amazing year for all of us.
Cook and eat well,
Kel xxx
Please do share these little morsels with people who love food and share your bites with me at any or all of these social servings.
Instagram @kellibrett @cuisinemagazineFacebook @KelliBrettCuisine @cuisinemagazineTwitter @kellibrett @cuisinemagazineLinkedin @KelliBrett