Guilt-free with well-disposed muscles
Oops mussels...
Anna Chrichton for Cuisine.
Coming to terms with guilt…
I can't stop thinking about an uncomfortable cab-ride situation in Queenstown last week. The driver was an affable bloke. Somehow we got onto petrol prices and I mentioned that my husband would like to get an electric car. It was here that the conversation took a turn. Similar to that moment at a dinner party when you realise that you are going to need to respectfully disagree with the person sitting next to you and that you may have to forfeit dessert. "That's an interesting point you make, but…" My driver segued spectacularly smoothly from the absurdity of electric cars to the ridiculousness of climate change and the 'fact' that it is all scaremongering. He reported on scientific research that 'proves' that the weather crisis is cyclical and that in 2050 it will all reverse. He then wrapped it all up neatly by telling me it was just plain silly to worry about the polar caps melting because if you fill a glass with ice and then fill the rest of the glass to the rim with water, no matter how long the ice takes to melt, the water will never overflow the rim of the glass. In his mind, "It's all just designed to make us panic," and he is "mightily pissed off with it all."
"Umm… I'm hearing that this is a topic you feel strongly about. How many more kilometres to Arrowtown?"
A few nights later I watched and read with the rest of the world as politicians and business leaders announced new steps to fight climate change at the United Nations Climate Action Summit. Don't know about you, but for me, a lot of questions still remain unanswered. As 16-year-old activist Greta Thunberg and other children filed their complaint charging that their human rights had been violated by Germany, France, Brazil, Argentina and Turkey, Greta's "How dare you?" question became pretty hard to ignore and her interview with Daily Show host Trevor Noah gave us a glimpse of the pure exasperation she feels for the rest of us.
*If you are feeling outraged around about now, please scroll to the helpline in the video below.
The ABC has responded with this new service to help grown adults deal with their rage against the 16-year-old activist…
In December 2018, Cuisine decided to draw a line in the sand and take a stand on encouraging our readers to make informed decisions when choosing their seafood. The response gave me just a teeny tiny bit of perspective on how Greta Thunberg might be feeling. The arguments between those for and against the climate crisis continue to erupt on social media where the 'perceived' facts are endlessly thrown back and forth. Cynicism seems to be becoming generalised as everyone becomes a critic. Technology increasingly encourages us to believe that we can all have first-hand access to the 'real' facts, and it's not only climate change that we are arguing about. As an editor, I find this piece on why we can't agree on what the facts are anymore by The Guardian very interesting. "Let us be clear that an independent, professional media is what we need to defend at the present moment, and abandon the misleading and destructive idea that – thanks to a combination of ubiquitous data capture and personal passions – the truth can be grasped directly, without anyone needing to report it."
Meanwhile, The Economist has released an unscientific survey identifying 12 climate capitalists that have put some serious money into climate-friendly investments. All doing the right thing by the planet and all expecting to see great returns on their investments.
With regards to our beautiful planet, it's easy to feel overwhelmed and slip into the "I can't do anything to change any of this" mentality, or even worse, that place of denial where my Queenstown cab-driver mate currently exists. I admit I find myself constantly feeling guilty because I don't do enough. Guilty because I don't always make the right decision. Yes, I do sometimes purchase products that are over-packaged. No, I haven't yet tried to make a chocolate cake with used coffee grounds and yes, I shamefully bought zucchini two weeks ago because I really wanted to try a dish in a new recipe book and in my excitement I didn't think 'seasonal' first. I am breaking into a deep sweat as I type these words, but I try, dammit, I do try! If you too feel like this (when no-one is looking) this little undepressing newsletter about how to fight climate change Minimum Viable Planet (by Sarah Lazarovic) might be your godsend. I suggest reading "What's guilt but a secondhand emotion".
Speaking of second-hand emotion how good is 79 years old Tina looking?
Image by Charlie Gates for The New York Times
She has been retired for 10 years, and she is still basking in all of the nothing she has to do. "I don't sing. I don't dance. I don't dress up." Amanda Hess looks back with Tina at the strength of her voice and the power of her story in this terrific interview for The New York Times.
The Guilt-Free Recipe…
To make up for buying those damn out of season zucchini, I'm sharing this recipe for our delicious chilli green-lipped mussels. It's time we start eating more of these rich and meaty New Zealand beauties and the chilli and paprika make them absolutely sing. They can sit in your fridge for up to a week and will be perfect for those beach picnics or bach weekends that we are all desperately counting down to. A loaf of crusty bread and some fresh parsley and job's done!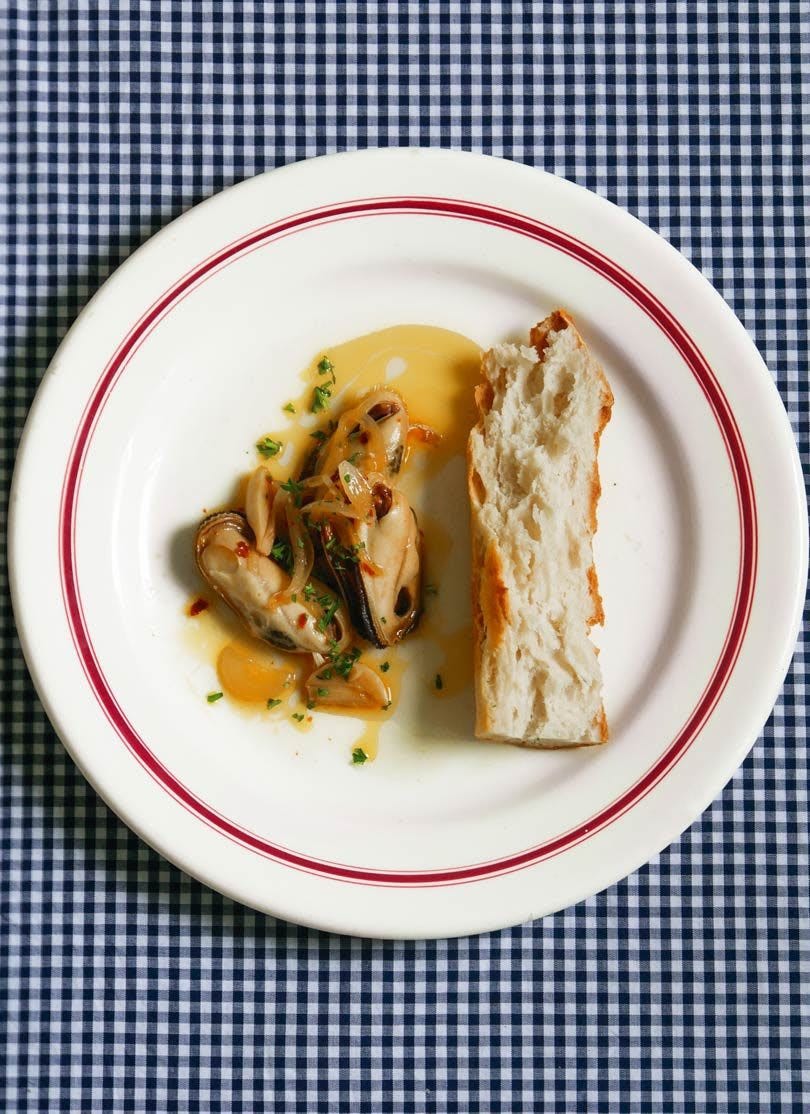 Recipe, photography & styling The Next Meal for Cuisine.
There's also a great little recipe for potted smoked fish with citrus butter and some pickled paua which will all go well in that picnic basket.
Random Bites…
The first episode of My Restaurant Rules NZ aired last night on TVNZ. Auckland ex-restaurateur Judith Tabron teams up with Colin Fassnidge (My Kitchen Rules) to discover New Zealand's best hidden gem. Did you watch it? I'm so curious to hear your thoughts…
Congrats to Tino Passano, head chef at Waiheke Island's Tantalus Estate Vineyard, who has been named the Australasian Tapas Champion for 2019, earning a spot at the World Tapas competition in Spain later this year. I seriously needed the stretchy pants for the judging! You can check out the incredible array of tapa that was served here.
This exhibition is rather important.
Designers Speak (Up) made an open call in early 2019 to all designers, artists and educators from the Directory of Women* Designers to design a red poster using the medium to explore and address any social, cultural, or political issue of their choice. These very beautiful posters are now on display for the month of October (changing every week) on Custom Street, Auckland, giving visibility and voice to the unsung diversity of Aotearoa design. "We aim to establish a contemporary, historic and perpetual index of Aotearoa New Zealand designers who *identify as women, womxn, non-binary, of any gender experience*, living and deceased, of all diversities — social, sexual, cultural, ethnic — anywhere in the world."
Poster Design Fiona Lascelles (Cuisine Art Director)
This video is rather beautiful. In an abandoned castle in the south of France, a dancer becomes lost in the colors of a giant painting…
Oh, and I thought you might like to know that a court in Frankfurt has defined hangovers as an illness. This information would have been very useful to me in the '90s.
Please do share these little morsels with people who love food and share your bites with me at any or all of these social servings.
Instagram @kellibrett @cuisinemagazine
Facebook @KelliBrettCuisine @cuisinemagazine
Twitter @kellibrett @cuisinemagazine
Linkedin @KelliBrett